Ci-Dev Community Q&A: Tapping into Hydropower to Support Kenya's Tea Farmers
Ci-Dev Community Q&A: Tapping into Hydropower to Support Kenya's Tea Farmers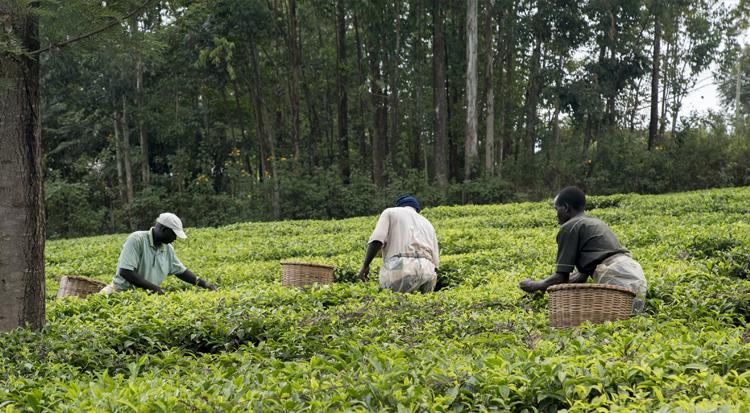 The Kenya Tea Development Agency (KTDA) is one of the country's largest private tea management agencies, owned by over 600,000 smallholder tea farmers. To ensure that the 69 tea factories owned by the smallholder tea farmers have access to a reliable supply of power—a critical component to tea production—KTDA has decided to take energy production into its own hands. KTDA Power Company Ltd., a wholly owned subsidiary of KTDA, is busy managing construction of small hydropower plants owned by farmers to supply electricity to these factories. The Carbon Initiative for Development (Ci-Dev) is providing results-based climate finance to boost revenue in ten of the plants and seven have received underlying financing from the International Finance Corporation (IFC) within the World Bank Group. KTDA Power Company Ltd. General Manager, Japheth Sayi, and Manager for Planning, Peter Wachira, were kind enough to chat with us about the progress, and challenges, of this program.
Q: How does this project contribute to the overall development mission for Kenya?
PW: One of the development goals the Kenyan government has set is to enhance the manufacturing sector. This project, with its focus on renewable energy, does just that. KTDA-managed tea factories are located in the highland areas of Kenya, at the tail end of the national grid, and hence the factories experience outages in power supply, resulting in a compromise on the quality of the end product. The small hydropower plants allow us to provide these factories with a stable source of power. This reliable power supply assists in the manufacturing process and reduces the costs of production for the factory. The excess power is sold to the national grid under the country's Feed-in-Tariff Policy and helps to stabilize the national grid in those areas and boost the local economy.
Q: Do you think small hydro offers something unique to the farming community in Kenya?
JS: Definitely, yes! If you look at the small hydropower projects, they offer a variety of benefits that are unique to the farming community.
In the past, the farming community relied only on selling their products to the market. When there was market fluctuation or demand and supply challenges, which affect prices, they had no other source of revenue. By nature, the small hydropower projects are designed to provide power to the tea processing factories and any surplus power is sold back to the grid. Thus, the small hydropower projects offer a form of income diversification or complementary livelihood for the farmers. When the market for the tea and the prices are not good, all is not lost for the farmers as the sale of power serves as an additional revenue stream.
Rural communities in Kenya often do not have a steady power supply. They are located at the remote end of the national grid and are susceptible to interruptions in power supply. The small hydropower projects stabilize the local grid. This boosts business activities because they are sure they have the power to support commercial activities within the farming community, and that is another benefit.
Finally, the issue of cost is a benefit for the farming community. Generators are very expensive. The power the tea factories receive from the small hydropower projects is not only more reliable, but also more cost effective. Energy costs within the factories contribute to production costs. Cutting down production costs means increased income to the farmers.
Q: It sounds like there is a lot to be gained from these small hydropower projects. How are you communicating these benefits to households and farmers?
PW: Through stakeholder engagement. KTDA has a stakeholder engagement plan and a grievance redress mechanism in place to engage stakeholders and ensure any complaints are taken into consideration and resolved as appropriate. Additionally, a community development plan for social investment projects will be put in place, in consultation with project beneficiaries, to ensure equity in sharing benefits from emission reduction payments.
We communicate the benefits of the projects through engagement activities, awareness, and education. We do this even before we ask the farmers to buy-into the projects.
Q: What has the reception been—is there an aspect of small hydro that people are particularly excited about? Anything that they are wary of?
JS: When the farmers in rural communities hear of the small hydropower projects, they are excited about the possibility of getting cheaper power.1 They are also excited about the prospect of selling the excess power back to the grid and receiving additional revenue from the sale.
After that, one thing that they are not very excited about is that they must contribute equity upfront. They become wary and ask how sure are we that that money will come back. They must make a sacrifice to realize the benefit for the money they are spending.
Q: What is the greatest challenge, from your perspective, of scaling up small hydropower in Kenya?
PW: The challenges we face are mainly related to raising equity from the farmers.
The other challenge is more social and is related to land acquisition. These projects need to be implemented on land somewhere, so we need to agree with the landowner on a land acquisition framework. KTDA's land acquisition strategy is on a willing buyer, willing seller basis. Succession issues and the land policy here in Kenya all need to be addressed, especially land for infrastructure projects.
Q: Do you think that climate finance is uniquely positioned to further the goals of the larger effort on renewable energy?
JS: Yes. Projects financing is a challenge. When investors assess these projects, they are often only looking at financial returns. But climate finance views these projects through a lens of climate mitigation, looking at issues of climate and not just financial returns. This goes a long way in implementing projects that might not otherwise qualify for financial resources.
Q: In your opinion, what development has had the greatest impact on hydropower? What innovation do you think would have the most impact in the future?
PW: Improvement in the efficiency of the equipment has had a big impact on delivering value to our projects.In the future, through research and development, if we can develop a way to store the energy we produce for use in the future—that would be a game changer. This would have a profound impact. Affordable energy storage or battery storage systems would have a big impact on the whole world.
Q: What is the most important piece of practical advice you would offer to someone starting on their first day in a similar job?
JS: From our experience, there is a lot you need to be able to accomplish in order to be successful in this job—you need to have the technical capacity to carry out feasibility studies, design the project, supervise construction, provide project management, secure financing (however difficult). However, one thing that might not be as obvious, but is just as important, is engagement with stakeholders. I would strongly recommend that people carry out a thorough engagement with stakeholders. There are a lot of stakeholders—political, environmental, technological, social, legal, security—whose buy-in is needed before funds are committed and project implementation can begin. Before project implementation is even considered, stakeholder engagement should be complete and before construction commences, land acquisition consultations and compensation need to be concluded.
¹ Note: the farmers are benefiting indirectly from cheaper power as it allows KTDA to pay a bit more for the tea after their loans to IFC have been repaid.